SHEPHERD TRANSFORMERS INDUSTRIES

C/132,Ghatkopar Industrial Estate
L.B.S. Marg,Ghatkopar(West),
Mumbai - 400 086. India.

Tel. : 91 - 022 - 2500 8480 / 4011 1896
91 - 022 - 4011 1896
91 - 022 - 2500 7787
Works. : 91 - 022 - 2500 8480 / 4011 1896

Email : shepherdindia.ho@gmail.com
kamlesh249@gmail.com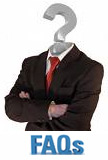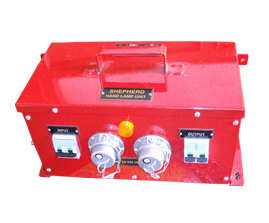 Co-ordination Committee for productivity and plant safety in Asian countries has concluded its report with several suggestions. The said report is prepared and submitted recently after visiting and physically observing the working conditions in more than 160 plants, manufacturing & servicing units through out the Asia. The report says: The prime requirement of maintenance team is to work with maximum efficiency and to develop the condition of total safety concept within the plant. In order to achieve this concept, they should be provided with safest handy tools for attending the job. While developing the SAFETY HAND LAMP Units, this concept have kept in mind by SHEPHERD'S products designing team.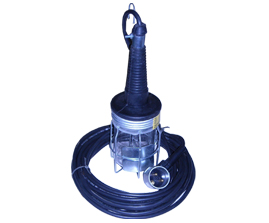 The SHEPHERD hand lamp units are designed for the maintenance team of plants suitable for steel plant, Chemical, Fertilizer, Power plants, Power generating stations, Cement plants, Oil Rig, Petroleum Industry, Heavy Engineering Industry, Automobile Industry, they are also suitable for Rubber, Paper, Aluminum, Textile, Rayon, glass, forging industries etc.. etc… All type of Industries, Five star Hotels, Mines & Quarries. For keeping uninterrupted production, high spirit and positive attitude of maintenance team such kind of Safety Hand Lamps are must in the maintenance dept. of every industry, processing house, refinery, miners & quarry.

The Hand Lamp Units developed by "SHEPHERD" are designed to deliver the output voltage 24 volts to the lamp in order to avoid electrical short circuit hazard. It can operate at a time one or simultaneously more number of lamps as per built in provision & customer's requirement. The capacity of each output ranging from 40Watts to 100Watts. Such one single to as many as five out put can be provided to operate such number of 24V lamps. Solid earthing provides the safety to operator. It can operate either on 200Volts to 250Volts or on 90Volts to 120Volts as per design of the Transformer.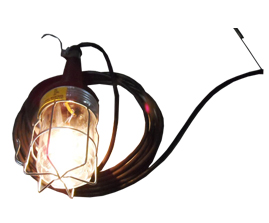 General guideline & details of accessories & fitting (for suitable selection at user's end) are mentioned in the product catalogue. Considering it's utility, we have made it light weight and compact for portability. The equipment is fabricated from M.S. sheet steel material. It can be easily carry away from one site to other. Elegant finishing and durable epoxy paint / powder coating keeps the user in graceful mood during constant, restless, working condition. SHEPHERD Hand lamps are totally maintenance free, robust and designed to use continuously on full load without loosing it's efficiency under normal & odd working conditions & high / low climatic whether of plant & site. Over all approximate dimension of unit is L 11" x B 6" x H 9" and weight is approximately 3.5kg.


Our such Hand Lamp Units are used regularly in L & T Mumbai, HPCL, Hotel Taj, Hotel Hilton Oberoi, Grasim, Ambuja, ACC, Zuari Cement, Maihar Cement, Ultra Tech Cement, TISCO, Jindal, Uttam Galva. Ispat Ind; Godrej, Standard Alkalies, Reliance Energy, Tata Power, Mahindra & Mahindra, IPCL, Bharat Petroleum, Indian Airlines, Essar steel, Vikram Ispat, Gujarat NTPC, Lilavati Hospital, Bajaj Auto, Grand foundry, Welspun Industries, Man Industries, Siyaram textile, IFFCO, Zuari Cement, Madras Cement, etc.. etc…

| | | | | |
| --- | --- | --- | --- | --- |
| | Copyrights | 2010, All Rights Reserved | Designed and Powered by | | |