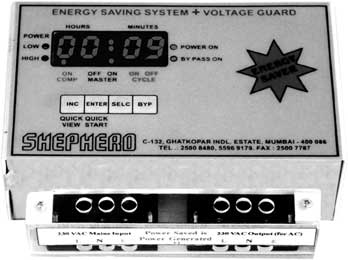 The energy saver + voltage guard is intelligent device designed to save on the power consumption, protect the machines, optimize the utility, reduction in the cost of maintenance and enhance the life of machines containing Compressors. (i.e. A.C., Deep freezers, Water cooler, etc.)

The micro controlled energy saver + voltage guard has built in 'Watch Dog' who is constantly monitoring the supply voltage condition. The moment supply voltage falls below 160V or shoots above 260V, it cut off the compressor supply in order to protect it from severe damage. The moment supply voltage condition normalize, it automatically start the machine. Thus the built in `Watch Dog' is always ON ALERT to protect the machine from dangerous voltage conditions. This protection is very essential for all compressors based cooling equipment.

The 'Master off' facility is provided to switch off the A.C. etc. after predetermined time of operation even though no body switch it off manually. This facility is very useful in case of installations as offices and Bedrooms. Cyclic ON and OFF based on real time clock (RTC) is also optionally available which start the A.C. at preprogrammed time (of course, such a program can be changed as and when it require very easily) and 'OFF' the A.C. at pre programmed time and again restart as per the settings. For seven days a week.

The product is Power Saving Device, so the buyer is eligible to claim 80% deprecation of the amount spent towards purchase of the equipment on the very first year itself under present I.T. laws. This way the 80% of your cost is recovered on day one of the purchase & installation. Perhaps no other product can be so much economically viable.

» Saving electrical energy 20% to 30%.

» Payback period around 100 days only!!! Micro controlled logic and digital circuit ensure consistency of uninterrupted performance.

» Improving the efficiency of machines, enhancing the life of compressors, reducing the maintenance and replacement cost avoiding the break-downs.

» Compact size, lightweight and elegant instrument is easy to install and operate.

» User-friendly concept with simple set-reset and Bypass arrangement on finger tip.

The energy saver instruments developed, designed and manufactured by SHEPHERD are suitable for all type of A.C. like window, split, package A.C. etc., deep freezer and water cooler in three phase and single phase version of any capacity with appropriate change in internal control gear of energy saver to suit the capacity required. Each instrument is supplied with operating manual, guarantee card and wiring connection diagram.